KINGDOM OF HEAVEN MINISTRIES
LAHORE, MEHER TOWN
PUNJAB PROVINCE, PAKISTAN
&
INNOVATIVE HUMANITARIAN SOLUTIONS
PEARLAND, TEXAS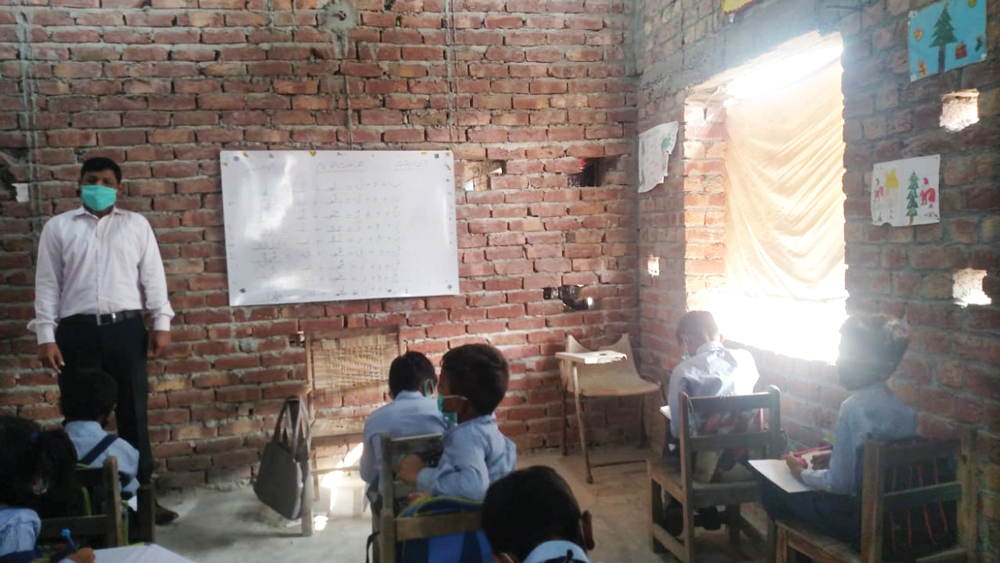 EDUCATION IN PAKISTAN
Much to the country's credit, Pakistan has expressed its commitment to promote education and literacy in the country by moving education policies to the domestic level and at the same time getting involved in international commitments on education.
However, a review of the education system of Pakistan suggests that there has been little change in Pakistan's schools since 2010, when the 18th Amendment to the Constitution included education as a fundamental human right. This is partly the result of problems of access, quality, infrastructure and inequality of opportunity, all of which remain endemic.
Education overall is unfortunately inadequate.
CHRISTIAN EDUCATION IN PAKISTAN
Five million Christians in Pakistan are a small and often forgotten minority surrounded by one hundred eighty million Muslims. Most Christians live in slums of the major cities or in villages which are scattered throughout the countryside. They are from the poorest levels of society and are known as a community of "sweepers and laborers." They are often mistreated and exploited beyond imagination.
Half of the five million Christians are below the age of twenty! Most have never been to school!! Without quality education they will never break the cycle of poverty into which they were born.
THE COST
WHAT DOES IT COST PER MONTH TO GIVE HOPE TO A CHILD?
Current Budget
| | |
| --- | --- |
| Personnel | $2,632 |
| Administration | $ 277 |
| Operations | $ 480 |
| Student personal needs* | $ 771 |
| Public Relations | $ 13 |
| Total | $4,173 |
*does not include schoolbooks for poor children…$30 each per year
Current Income
| | |
| --- | --- |
| Starfish Pakistan (grant) | $1,233 |
| Attendance fees | $ 67 |
| Ministry Partners | $2,273 |
| Total | $3,573 |
Capital Need
| | |
| --- | --- |
| Land | $70,000 |
| Building – first unit | $75,000 |
| Building – second unit | $75,000 |
A BRIEF HISTORY…
A few years ago the streets in the Christian area of Lahore were the home of many destitute children. They wander on the streets and become victims of petty crimes, drugs, and cheap sex. They are a generation growing up illiterate and without hope, born into a cycle of poverty from which they will never escape.
May 2002 Kingdom of Heaven Ministries International was founded. A small house was rented and the future became bright for the children of the streets.
September 2020 I was introduced to Innovative Humanitarian Solutions, an organization that was founded to meet humanitarian needs in difficult areas of the world. Their experience in building schools in places where there had not previously been a school matched perfectly with our need.
THE FUTURE
Kingdom of Heaven Ministries and Innovative Humanitarian Solutions have agreed to partner and provide a quality education for Christians in Punjab Province of Pakistan.
GOAL ONE
Provide education that will result in a generation of Christian believers who:
Know God personally
Understand the Bible thoroughly
Stand firmly in the face of opposition
GOAL TWO
Provide an education that equips Christians to provide for their families by earning a living as honorable members of society.
EDUCATIONAL AIMS & OBJECTIVES
Provide:
education for poor, orphans, and other deserving children;
books, clothes, other items necessary for an education;
medical assistance for special needs children;
access to technical and professional studies;
spiritual teaching for life skills;
practical opportunities to help widows, poverty-stricken people, and others.
JOIN US TO MAKE A POSITIVE DIFFERENCE IN HUNDREDS OF LIVES